Hello everyone! I hope everyone is having an amazing day whenever you read this. I intended to post this one in the beginning of February, but me and my family got covid and lived a very hard days as we recovered. Thankfully we're all healthy now and I'm back to blogging after after this involuntary pause.
I know I'm *very* late to the trend as Red TV (aka the best album ever) dropped on November 12th 2021, but I just couldn't miss the chance to post this book tag before Taylor goes and announces the next re-recording (which I'm praying for it to be Speak Now… it just has to be)
I hope to not be boring you with the Taylor content (this will be the last in a while, I promise), but I just want to post things that make me happy and miss Swift and reading are my entire personality… so why not.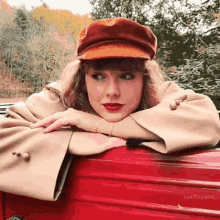 RED has always been my favorite album. Like ever. I've been loving it ever since it came out almost 10 years ago and to me it has no competition so far. It's my baby. So when it was announced that it was the next re-recording I almost collapsed. I want to give credits to Narrative Paradise for creating this tag. Without further ado, let's begin! Answer will be short as there are too many prompts 🌞
---
State of Grace – Best opening book in a series
Spin The Dawn by Elizabeth Lim – I'm kinda cheating here because it's a duology, but it's still the best opening book I can think of. It's full of action, emotion and it's just flawless.
Red – A book that makes you feel a whole spectrum of emotion
The Seven Husbands of Evelyn Hugo by Taylor Jenkins Reid – This book can make you happy, hopeful, bitter, angry and deppressed in less than 400 pages.
Treacherous – A slow book that you ended up loving
I didn't quite know what to say here because I just… don't like slow books, haha. If a book is slow, chances are I won't read it. I checked my good friend The StoryGraph to see all the slow books I read in the past, and I'll pick Pride and Prejudice. It is a very different style of what I usually read but I loved it. I think it's a classic that everyone interested in the genre should read.
I Knew You Were Trouble – A book you knew would be bad and ended up being bad
Imagine Me by Tahereh Mafi – Okay I'm cheating a bit because I didn't *knew* it would be bad… if I know a book is bad most times I don't give it a chance, lol. But I read this one because it was the end of a book series I initially loved. I knew that the previous books weren't that good (I think that after Ignite Me everything went downhill) but the premise of this one really had me thinking it'd be a good ending… but book twitter ended up being right and it was a total mess.
All Too Well – The book that has stayed with you the most
Clockwork Princess by Cassandra Clare – This isn't my favorite book ever (though it's fairly close), but I decided to put this one here because Shadowhunters is a long, long series and out of all those books, this is the one that stayed with me the most. I remember it vividly and it was the one that made me more engaged than any other in the Chronicles.
22 – Coming of age book
You Should See Me In A Crown by Leah Johnson – This book showed us the amazing growth of its main character throughout the story, and how her priorities and dreams change as she goes through different experiences. I highly recommend it.
I Almost Do – The one you keep almost reading and don't
The Poppy War by R.F Kuang – I know, I know… I've talked for years about how much I want to read this book yet I don't. I'm scared. It's long, and I have high expectations on it as everyone loves it.
We Are Never Ever Getting Back Together – A book you want to reread
The Hating Game by Sally Thorne – I loved this book when I read it, so I was so happy when I found out there is a movie adaptation of it! I want to reread it before watching the movie.
Stay Stay Stay – A book everyone dislikes but you love
This one is too hard for me because if I see mostly negative reviews of a book I'll just… not read it lol. So let's leave this one unanswered.
The Last Time – What was the last book you read?
Heartstopper Vol III by Alice Oseman – I've been reading the Heartstopper books and oh my God… I knew it was good as everyone had only good things to say about them, but they're just so amazing, pure and filled with joy and positive vibes. Those books just became my new comfort books.
Holy Ground – A fan favorite book
These Violent Delights by Chloe Gong – I'd dare say this is the most talked about book in book twitter and for a very good reason. I think we all know about this book but if you don't I highly suggest you to check it out (and its sequel!)
Sad Beautiful Tragic – A book with any of these words in the title
The Beautiful by Renée Ahdieh – I haven't read this book yet but it's the only one I could think of, haha. I really wanted to read this back when it came out but I haven't got around to do it just yet. I just hope I can do it soon as I've read amazing things about it.
The Lucky One – A book about fame
The Unraveling of Cassidy Holmes by Elissa R. Sloan – Probably not a book you were expecting to see here and it's not very known, but I had the chance to read an ARC and adored the book. It's a mix of Hollywood and crime/mystery, and it's set in the early 2000s! Around the Britney/Christina Aguilera era and the characters definitely give those vibes. I highly recommend it.
Everything Has Changed – A book that changed how you viewed something
With The Fire On High by Elizabeth Acevedo – This book did change how I saw teenage pregnancy. Though I know many teenage moms, I've never been close to anyone who has gone through this, so reading a book with a teenage mom as the main character offered me a new perspective of how their lives are like, how their priorities change and their overall lives too, but that doesn't mean that they have to leave behind all the dreams and aspirations they had before becoming mothers. This book handles the topic tremendously well.
Starlight – A book that makes you feel warm and cozy and magical
Heartstopper Series by Alice Oseman – I just started reading these books a few days ago but I can definitely see why everyone loves them. Nick and Charlie's love is so pure and lovely, they have an amazing chemistry and everything about their story is just so magical.
Begin Again – A book that you'd read on a Wednesday in a café
Any Christina Lauren book – I love these authors because they create amazing stories that are light but also entertaining and original. I don't picture myself reading anything heavy in a café because I have a terrible attention span and I'd get lost, so their books would be a great choice.
The Moment I Knew – A book that looks happier than it actually is
Beach Read by Emily Henry – I thought Beach Read was going to be just what the title and cover promised… a light, laid back you know… BEACH READ, but it ended up dealing with some very hard topics. Doesn't mean I didn't love it though.
Come Back, Be Here – A book series that you want to make a resurgence OR a book series that you want to be finished/the author to come back to
Well that's… too many prompts for a single song lol. So I'll go for "book series that you want to be finished" and say that I'm eager to see how Heartstopper by Alice Oseman ends… but at the same time I really don't as I'm afraid I'll bawl my eyes out because there won't be more Nick and Charlie.
Girl At Home – A book that feels like you're betraying your favorite book/author/character
Evelyn Hugo made me feel that I was betraying my all-time favorite book (Addie LaRue) and they ended up being tied at the top 1 spot of my favorite books ever. It wasn't easy to accept that I had read a book so good it almost made Addie LaRue fall from the pedestal though.
Better Man – A book with a dark/morally gray love interest
A Darker Shade of Magic by V.E Schwab – Basically… everyone is morally gray here. Everyone.
Babe – A book where a character gets cheated on
If there's a trope I absolutely despise is the cheating trope… and I thought hard on this one but I just couldn't remember a book I've read that has involved cheating. Maybe I have a fish memory or I just have had enough luck to never come across one. It shall remain a mystery.
---
That's it for this post! Thank you so much to all those that stayed until the end, it was definitely a long one. I've missed doing book tags and I plan to do some more in the future, so if there's a tag you'd like me to do let me know in the comments!
For the next posts I will be talking about book blogging and sharing some tips I've saved for some months, and I'm really excited to finally be sharing with you! So stay tuned and don't miss them.
Do you agree with some of the answers of this tag? What is your favorite song of RED (Taylor's Version) (mine is All Too Well 10 min version… because it couldn't be any other of course).
See you in the next post!