Hey everyone! Today I'm very excited to introduce you to a debut author with a very promising YA fantasy book that was just released. Her name is K.T. Anglehart and her book, The Wise One, is an original and immersive story set in 1991 between Massachusetts and Northern Ireland, following the story of seventeen-year-old Mckenna as she goes on a quest for her true origin, finding herself on a journey featuring witches, faeries, nature and lots of historic details that bring the story to life. You can find it on Goodreads and Amazon.
In the author's words:
"The Wise One is a witchy book forged by themes of nature, politics, and spiritual journeys. Expect to find faeries, friendship, and faith where one often fails to look. Imagine mystic lakes, magical realms, and harvest moons."

K.T. Anglehart in her official website
I had the pleasure of interviewing her today, and creating a moodboard for her book which you'll find below! This is a very special post for me since it's the first sponsored post featured on Bellerose Reads. If you want to know more about my promotions and advertising services, you can do so here.
1. If you could pick three words to best describe The Wise One, which ones would be?
Anglehart: Witchy. Warm. Whimsical.
2. When and how the first idea about writing The Wise One came to your mind? Can you tell us how you decided you wanted to tell this particular story?
Anglehart: The Wise One was originally a TV script! It actually developed from an idea I had in my screenwriting class while I was completing my creative writing master's. Andy, my partner, encouraged me to write about the things I loved. I knew it had to be magical, and I love Celtic folklore and modern-day mysticism. We were also planning our honeymoon in Ireland and Scotland at the time, so I guess the excitement of the trip together with my passion for Irish and Scottish culture is what tied it all together.
3. You are Italian-Canadian. What made you decide to take inspiration from Ireland to create this story? Would you be interested in writing a story set in Italy someday?
Anglehart: Ireland is my current obsession, but I would certainly not rule out writing a story that takes place in Italy someday! My Italian heritage is very important to me.
4. Fantasy is probably one of the hardest genres to write, especially when you're taking inspiration from certain setting or folklore myths, can you tell us which ones were the tools you found we're most helpful to you during the planning and writing process?
Anglehart: I had tons of books that informed and inspired me, which are listed on the back of my novel for those interested in exploring the topics of folklore and magic a little further. So, I always had my nose in a book along with about twenty tabs opened on my computer!
5. One particular thing that stands out from Mckenna's character is her passion for protecting the environment. Cillian also shared this trait with her. Would you say they got that trait from you? What made you include that element in their characters?
Anglehart: Yes, I'm an environmental advocate. I wanted to spread as much good as I could through this book, and I think it's important from a young age to begin to be aware of environmental issues. It's the very least I can do to help make a difference.
6. What would you say was your biggest inspiration during the process of writing and creating the book? Did you inspire on real life events or people for certain aspects or characters of the story?
Anglehart: My biggest inspiration was probably the landscape itself. Being there and absorbing the sheer beauty of the locations I depict in the book is what drove so much of the story.

Yes, in fact! I did draw on real-life people. Three of the witches in the story are historical figures, with legends and haunting stories behind them that were far too interesting not to write about.
7. In which other fictional world do you think Mckenna and Nissa would fit perfectly?
Anglehart: I think they'd do well in Deborah Harness's fictional world featured in A Discovery of Witches.
8. Let's say you get a deal to get The Wise One to the TV or the big screen (hopefully someday it happens!!) Who would you cast as the main characters and why?
Anglehart: Oh, TV is definitely not out of the question! I would likely look for fresh faces to portray Mckenna, Nissa, and Cillian, but I can't help but see Adam Fergus (Being Erica) as Seán and Karamo Brown (Queer Eye) as Andre! They're both so dashing, I saw them almost immediately in my mind. And perhaps it's a long shot, but I've always pictured Nicole Kidman as the High Priestess… Dream big, they say!
9. There is a lot of diversity in your book, from LGBTQ+ representation, to dysfunctional families as Nissa's, to Irish and Scottish representation as well. Do you wish to keep including more types of diversity in the following books?
Anglehart: Absolutely. Writing diverse characters has always been important to me. Though, I'm aware that as a straight white female, I'm writing from a place of privilege. And while I did my absolute best to create authentic characters, I could appreciate they may not be perfect. All I can promise is to keep learning.

That said, there is no question that we need more diversity in fiction, and we need it now.
10. Can you tell us a little about your documentation process on these topics?
Anglehart: Lots of research. Lots of discussion forums. Lots of sensitivity readers. I'll admit, there was some difficulty around writing diverse characters in the context of 1991; for instance, back then, the terms we use today to identify our sexual orientation were not as widely used. Though we still have lots of maturing to do, we've grown significantly as a society in the past thirty years, and so Seán, too, has some growing up to do. He falls in love with the person, regardless of their gender, and has trouble labelling himself, which was difficult to pinpoint without contributing to bisexual erasure; but again, it's important it's taken in the context of the early 90s. Through his character, I wanted to portray more than anything that love is love, no matter what. We are all complex beings, we are all imperfect, and my hope is that this comes across.
11. Thank you for answering my questions! To finish, please tell the readers why they should go pick up The Wise One right now.
Anglehart: Because it warms the heart, frees the spirit, and makes magic feel within our grasp.
"Where are we?" Mckenna said as a rocky landmass came into view.

"Below, where you see the rock formation—that's the Giant's Causeway."

As they drew nearer, Mckenna did a double take at the dramatic sight before her: At the foot of the cliffs lay uneven hills of thousands upon thousands of interlocked black rocks in the shape of hexagons. Like a three-dimensional jigsaw puzzle, the pieces fit together flawlessly. Esme urged Mckenna to walk around the site. She did, stepping up and down from stone to stone.

How could they have formed so perfectly? And why were they all at different heights? How were they floating on the sea?

That was when she realized . . .

"Esme, these aren't rocks, are they? These are columns."

"Indeed. Forty thousand columns beneath the sea—basalt columns, meaning they're formed from lava. Some as tall as thirty-nine feet. All of this was the result of a volcanic eruption some fifty million years ago, during the Tertiary period—but of course, there's also an Irish legend that explains it all." Mckenna smiled at this. "A Scottish giant, Benandonner, challenged an Irish giant, Fionn MacCool, to a fight. Being very proud, Fionn accepted and built a causeway across the North Channel to Scotland for the two to battle. But when Fionn saw the size of Benandonner, he ran back to Ireland and had his wife disguise him as a baby.

"The funny bit is, when Benandonner saw the size of the baby, he thought, 'if the baby's that big, can't imagine his dad!' So, he bolted back to Scotland, destroying the causeway along the way. Across the sea to the Scottish isle of Staffa, there are the same columns, made of the same basalt."

"So, which story is true?" If faeries and ghosts existed, why not giants?

"Which do you believe?" -The Wise One, Chapter XIV: Lessons in Ballycastle
Title: The Wise One
Author: K.T. Anglehart
Publisher: Kat Biggie Press
Release date: October 28th, 2020
Page count: 254
Genre: Urban fantasy
Book links: Goodreads | Amazon | Waterstones
Summary:
Mckenna's never thought much of her nightmares, but on her seventeenth birthday, a vivid dream of burning at the stake awakens her dormant abilities, thrusting her into a world where faeries are real, spirits hold a grudge, and a High Priestess obsessed with a 16th-century prophecy is tracking her every move.
​Now, her overprotective dads, Seán and Andre, are forced to tell her the truth—they know who her birth mother is, and her life is not the surrogate story she's ​always ​been told. Abigail, Mckenna's mom, is some sort of mystic, and Mckenna a Wise One.
​Whatever the hell that means.
​With the help of a persistent little wren and company of a newfound friend, Mckenna journeys to Ireland in search of her mother and real answers. Along the way, she learns to harness her innate magic and trust her intuition, as best she can anyway—Cillian, a kind and passionate delegate ​who crosses her path, is proving much harder to read.
​Only her mother could truly help her halt her ill fate and prepare her for what's to come…before she gives in to the darkness she knows is buried deep within.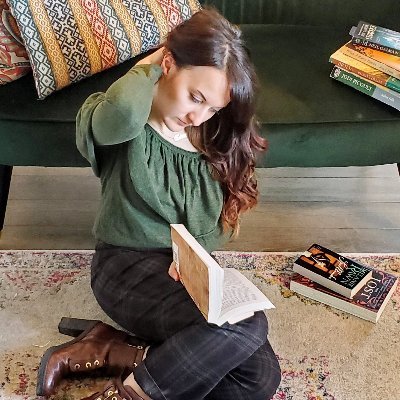 Katrina Tortorici Anglehart is a born and bred Italian-Canadian from Montreal. A devoted academic, she holds a Bachelor of Arts in Journalism; a graduate certificate in Scriptwriting; and a Master of Fine Arts in Creative Writing. After dabbling in TV writing and working as a digital marketing content manager, she left the nine to five to launch her freelance editing and coaching career. Today, she relishes in helping aspiring authors to develop and refine their stories.
Besides English, Katrina speaks French, Italian, and Spanglish. When she's not writing, diving into magical reads, or Netflixing, she's travelling with her favourite human—her high-school-sweetheart-turned-husband, Andy—and obsessing over her pet bunny, Magic, and newly rescued pup, Nessie. Katrina currently lives in Toronto, Ontario.
You can find Anglehart on her official website, Twitter and Facebook.
---
That's all for this post! Are you going to add The Wise One to your TBR? What's your favorite book about faeries? Let's talk in the comments!